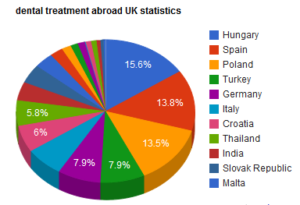 Private dental costs continue to rise in the UK, which ultimately account for the great success of dental travel.
British dental patients and even other Western European nationals are flocking abroad to countries like Hungary, where private dental care is not as expensive as in the UK, and many dental clinics are at the forefront of technological advancements in cosmetic dentistry.
While travel is indeed an issue for some, the lower costs of dental treatment and low cost flights coupled with the short duration of the flights are enough reasons for patients to give Hungarian dental clinics a try.
Pros and cons of Hungarian dental treatments in UK as opposed to Hungary
The dental treatment in UK vs Hungary debate is ultimately settled by the budget and preferences of each patient. Flexibility is another important factor as a dental treatment in Hungary implies travelling, finding accommodation for the duration of the treatment period, and the whole fuss that goes with organising such a trip. However, Hungarian dental tourism has been streamlined, in the sense that Hungarian dentists and dental clinics started offering consultation in the UK by opening dental offices for this purpose. With time, it also became natural to open clinics for Hungarian dentists.
Dental treatment in the UK – Hungarian dental praxis overview
These clinics now have dental practices both in the UK and in Hungary, and while Hungarian dentists will offer both consultation and treatment in UK, the costs of treatments are still higher in the UK compared to the costs in Hungary. These Hungarian clinics with offices in the UK now streamline the process of dental tourism by offering consultation in the UK, and organising patients' trips to Budapest for the actual treatment. Some dental treatment packages created by these clinics will include free airport shuttle, free consultation and treatment plan, sometimes free accommodation and flight ticket reimbursement.
Dental treatment abroad – Budapest, Hungary
Dental treatment in Hungary is 20-30% cheaper, and while the lower price may be well worth the travel, aftercare is sometimes an issue, as it means a second journey for patients. This would not be a problem if patients would opt for the services of dental clinics based in the UK, where aftercare would not be an issue. However, this gap is, in some cases, filled in by Hungarian dental clinics that have subsidiaries in the UK, and patients can go there for aftercare treatments, thus, saving both the costs and time of a second trip.
Why Hungary if larger dentistry work is to be done?
Another argument for dental treatment in Hungary is that although prices are lower, dental equipment, materials, and devices used are not limited, meaning that Hungarian dental clinics use the latest devices and technologies that have emerged in the field of dentistry (e.g. AlphaBio implants, SGS, Cortex, Prowital, Fullplant/Symplant, etc). Not only that, but patients have the opportunity to experience a 5-star treatment, recognised at a European level (many clinics in Hungary hold prestigious European awards in dentistry), at a lower price than what a UK clinic would usually charge.
Who travels to Hungary for dental implant surgery?
Whether it's actually worth travelling to Hungary for dental services, it depends on each particular case and the kind of treatment one needs. It is clear, however, that each year several hundreds of British patients do decide to travel to Hungary instead of opting for the services of UK clinics.
Private Dental Clinic Reviews
Mentés
Mentés
Mentés
Mentés
Mentés
Mentés
Mentés
Mentés
Mentés
Mentés
Mentés
Mentés
Mentés
Mentés
Mentés
Mentés
Mentés
Mentés
Mentés
Mentés
Mentés
Mentés
Mentés
Mentés